Event Date:
Friday, April 5, 2019 - 10:30am

to

Friday, April 26, 2019 - 10:30pm
Denim Day
 is a month-long campaign to end sexual violence. By encouraging your friends, family, coworkers, or classmates to 
pledge $5
 and wear denim on Fridays in April and on SERV Denim Day (April 25), you are playing a key role in taking a visible stand against sexual violence in your community.
Sexual violence has become so prevalent that the Centers for Disease Control and Prevention considers it one of the fastest growing epidemics in the nation. Denim Day is a call to action for all people to stand up for the health and safety of everyone in the community. Your support will make it possible for victims of violence to access crisis intervention services including a 24/7 hotline, counseling, safe housing, and advocate accompaniments to hospitals, police stations, and the court.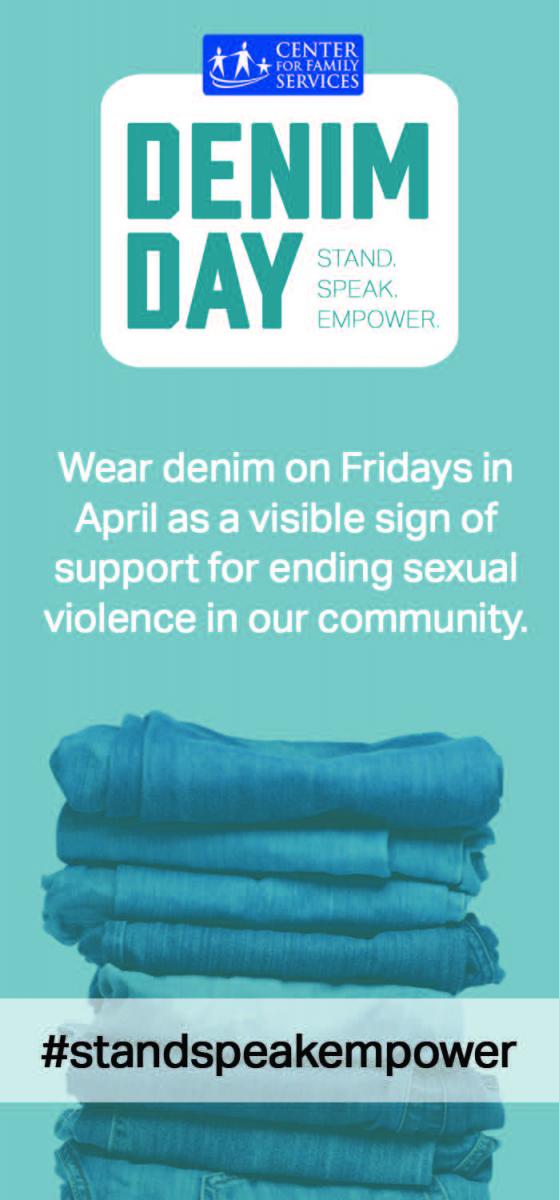 History of Denim Day
In 1998, an Italian Supreme Court decision overturned a rape conviction because the victim wore jeans, reasoning she must have helped her attacker remove them. Enraged by the verdict, women in the Italian Parliament protested by wearing jeans to the steps of the Supreme Court. Wearing jeans became an international symbol of protest against erroneous and destructive attitudes about sexual assault. Denim Day was launched in the United States in 1999, and it was officially adopted in New Jersey in 2010.
Where the Money Goes
Proceeds from the SERV Denim Days Campaign will provide services to survivors of sexual violence in South Jersey. Your contribution makes it possible for SERV to operate a 24-hour hotline, provide accompaniments (to hospital emergency rooms, police stations, college campuses, and court), offer individual and group counseling, provide safe shelter for victims of domestic violence and human trafficking and their children, and implement a prevention program so that violence is no longer a public health epidemic.
Spread the Word
Ask your employer or school to participate in the event by encouraging everyone to wear denim on Fridays in April or on the day of your choice. Download the Denim Day organizational toolkit.
Share your Denim Day photos on social media using #StandSpeakEmpower to spread the word!
Visit denimdaysnj.org to register, request an educational presentation for your group, purchase t-shirts and buttons, and see our full calendar of events.
RSVP and Invite Others on Facebook