February is Teen Dating Violence Awareness Month, and the second Tuesday is observed as Wear Orange 4 Love Day (
#Orange4Love
). By wearing orange and sharing a photo on social media, you send a message that you stand with teenage survivors of intimate partner violence. Center For Family Services and the Services Empowering Rights of Victims (SERV) program acknowledge this annual initiative, which has been promoted by 
Break the Cycle
 since 2010. SERV provides crisis intervention, counseling, and support to those affected by unhealthy or abusive relationships in South Jersey. Our dedicated team of highly trained and compassionate staff provide personalized care to help people follow a path to healing.
Relationship violence
 can start early in a young person's life. Intimate partner violence affects teenagers and young adults (ages 16-24) more than any other age group. One third of adolescents have experienced physical, emotional, sexual, and/or verbal abuse by a dating partner. The dynamics of power and control in a teen dating relationship can be just as dangerous as those found in an adult relationship. Due to the age of the parties involved, teens may face barriers that prevent them from getting the support and resources they need to be safer in their relationships.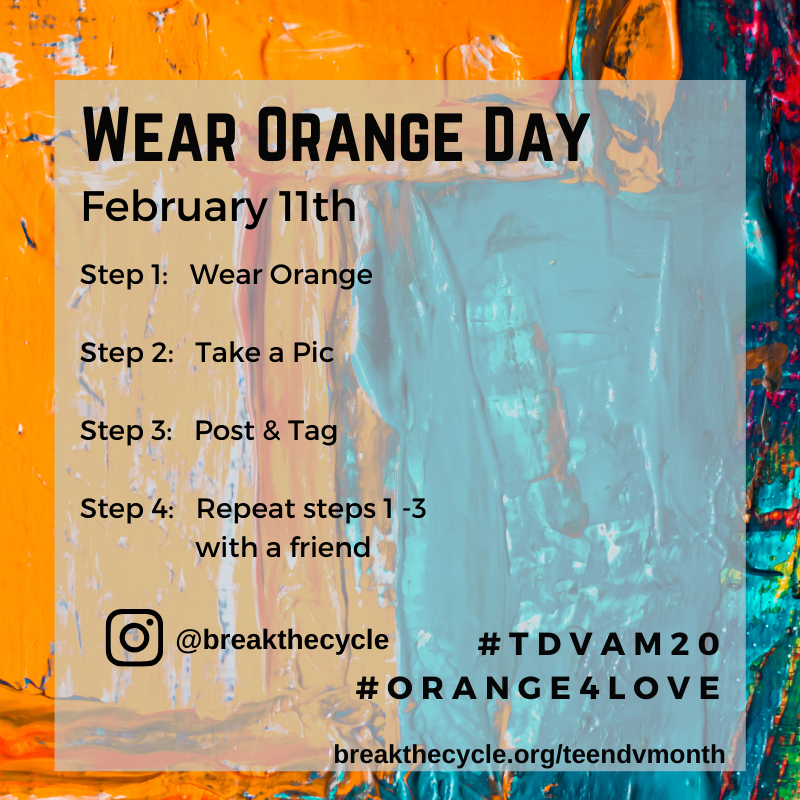 Plan to wear orange on February 11 as we speak out for those affected by teen dating violence. When posting your pictures on Facebook, Twitter, or Instagram, include hashtags #Orange4Love and #TDVAM20. We may share your photo if you tag us (@cfsserv)!