Event Date:
Monday, April 1, 2019 -

3:00pm

to

5:00pm
On April 1, Services Empowering Rights of Victims (SERV) advocates will be at the Mosaic Family Success Center in Glassboro to help people of all ages as they create comic books that can empower all. Please join us as we kick off Sexual Assault Awareness Month! This activity is one of many throughout the month of April in which SERV aims to connect with the community and share info on personal empowerment, consent, sexual violence, and violence prevention.
Participation in this event is free, but registration is required. Call the Mosaic Family Success Center at 856-347-4338 or send an email to fscgloucester@gmail.com to sign up. This activity is great for kids ages 13-17, so we hope to see your whole family there! After the event, post your photos on social media using #StandSpeakEmpower to share what you learned about consent and empowerment at this event.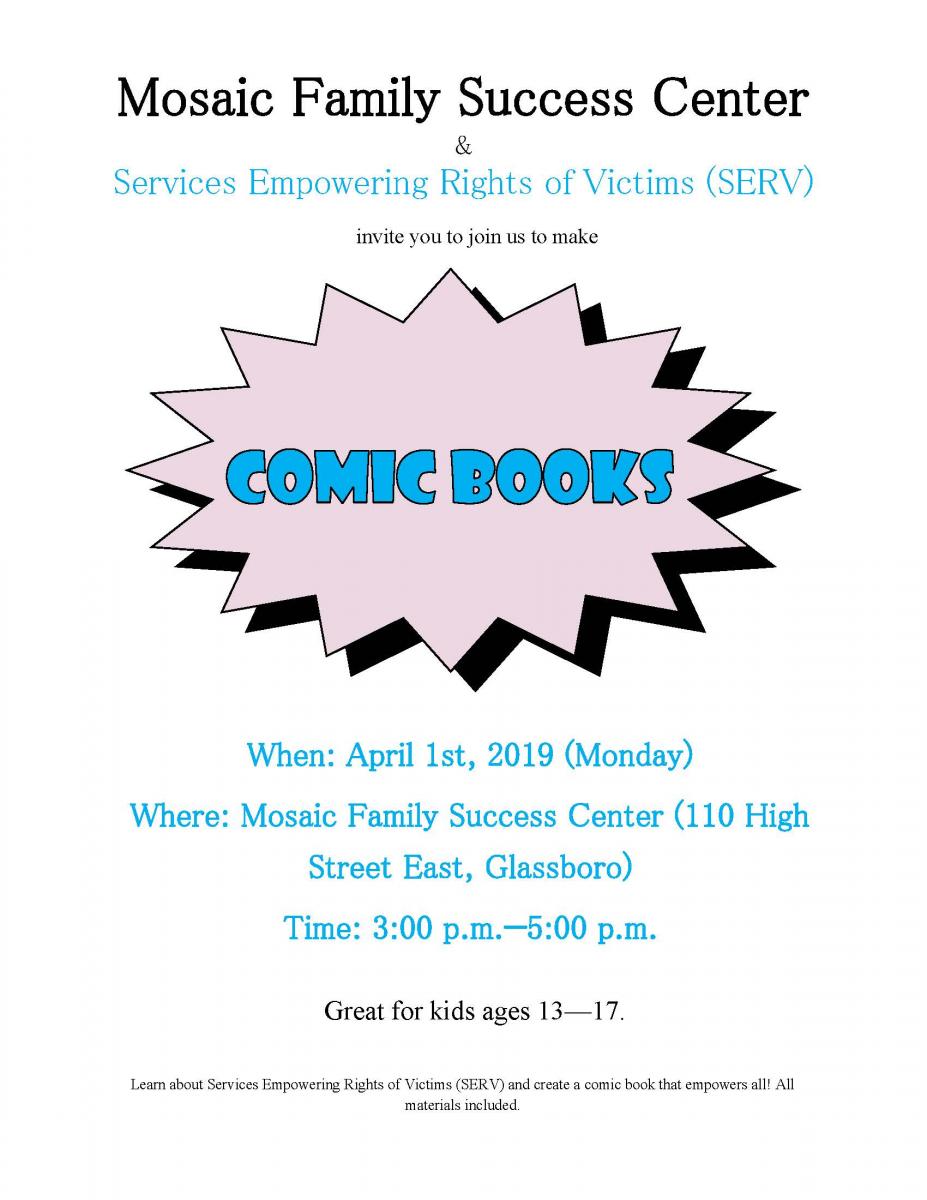 Mosaic Family Success Center
110 High Street East
Glassboro, NJ 08028
Sexual violence comes in many forms. It can be defined as any unwanted sexual activity that is forced, threatened, coerced, or manipulated onto an individual. Sexual violence is motivated by the need to control, dominate, humiliate, and harm another individual. It violates a person's feeling of trust and safety and impacts individuals, families, and communities as a whole. Sexual violence can include:
Sexual assault/rape 
Child sexual abuse 
Incest 
Criminal sexual contact/unwanted touching 
Internet stalking to obtain sex 
Drug-facilitated sexual assault 
Sexual harassment 
Voyeurism 
Exhibitionism 
Learn About SERV Sexual Violence Resources
RSVP and Invite Others on Facebook
Take the Pledge Against Sexual Violence