Event Date:
Friday, January 24, 2020 -

6:00pm

to

8:00pm
Come out to Riverside Cafe in Bridgeton for Human Trafficking Awareness Open Mic Night. This event is meant to bring the community together and spark meaningful discussion during Human Trafficking Awareness Month (HTAM). Wear blue if you can! Advocates from Services Empowering Rights of Victims (SERV) of Cumberland County will be in attendance with resources and program information. This event is open to all creative types (poets, singers, musicians, etc.). Admission is free! Refreshments and fun vibes are waiting for you. We hope to see you there.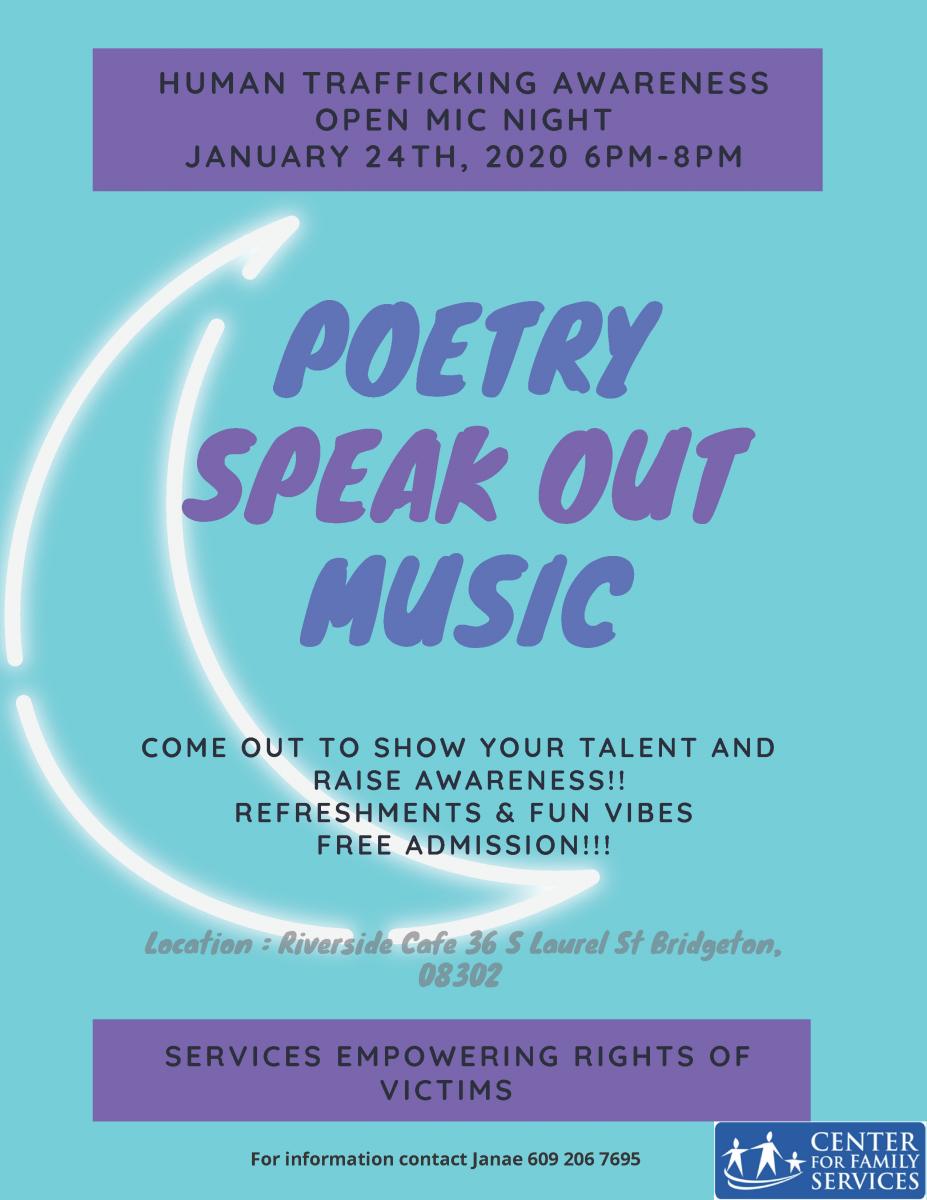 About Us
SERV is the designated provider of care to survivors of human trafficking in Cumberland County, offering crisis intervention, counseling, safe housing, court advocacy, and other support. SERV's dedicated team of highly trained and compassionate staff provide personalized care to help people follow a path to healing.
About Human Trafficking
Human trafficking, also known as trafficking in persons (TIP), is a form of exploitation in which perpetrators use force, fraud, or coercion to control victims for the purpose of engaging in commercial sex acts or labor services against their will. Human trafficking is a crime under federal and international law, as well as a crime in every state in the United States.
Adults, teenagers, and even children can be victims of human trafficking. Many are forced to work in prostitution or the sex entertainment industry, but trafficking also occurs in forms of labor exploitation in urban, suburban, and rural areas. Victims of labor trafficking who have been identified in the United States include domestic servants, restaurant staff, hotel employees, factory workers, and agricultural laborers.
About HTAM
January is Human Trafficking Awareness Month. This event is one of many in which SERV aims to educate the community about human trafficking and prevention efforts. Share your event photos on social media using #StandSpeakEmpower to spread the word.
Event Location
Riverside Cafe
36 S. Laurel Street
Bridgeton, NJ 08302
More Info
RSVP and Invite Others on Facebook
See How SERV Supports Survivors
Find Other SERV Events
Make a Donation to SERV