Holiday Gift Project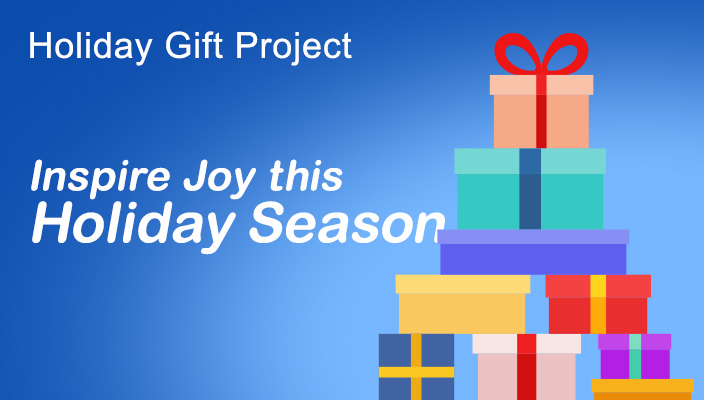 Brighten someone's holiday - support our Holiday Gift Project between November 1st - December 16th 2016.
Each year, because of the involvment of community partners like you, over 2,000 children and teens being cared for by Center For Family Services receive brand new holiday gifts through our Holiday Gift Project, ensuring they have an inspired and joyful holiday.
Without your help many of these children and teens, some of whom may not be able to spend the holidays with their families, would receive no gifts at all.
By participating in our Holiday Gift Project you truly have the opportunity to make a positive difference in a child's life that will continue throughout the year.
We wouldn't be able to do what we do without you!
---
Ways to get involved
Sponsor a Child or Children
Our online Holiday Wish Center is now closed. If you are still interested in supporting our youth this holiday season we kindly ask you make a monetary contribution.
Gift Cards
Gift Cards are a great way to make the holidays brighter for the teens and families served by Center For Family Services. Gift card donations give teens in our safe housing programs the opportunity to shop for their own clothing - which boosts self-esteem - or to participate in activities like movies, bowling, and food outings - which helps to open doors to new opportunities and helps to create positive memories.
Please deliver or mail all gift cards to:
Center For Family Services
Attn: Development Dept.
584 Benson Street
Camden, NJ 09103
Gifts
Need help figuring out what to purchase? Check out our list of most needed/most wanted items.
New winter coats (newborn - adult 3XL)
Hoodies (adult small- adult 3XL)
Pajamas (newborn - adult 3XL)
Gift cards (Preit Mall, Best Buy, Target, Old Navy, Wal-Mart, ShopRite)
Movie theater passes (AMC preferred)
Books (newborn - young adult)
Toddler education toys
Sports Equipment (NFL footballs, NBA basketballs)
Gift cards for the teens living in our safe housing locations (mall, Target, Walmart, Kohl's, Old Navy, movies)
*We can only accept new items
*Please provide gifts unwrapped
Monetary Donations
No time to shop? Can't decide? Want to give something that's needed? Make an online donation to Center For Family Services. With your gift designated to the Holiday Gift Project, we will shop for items most needed for the teens in our safe housing programs. To make a donation online, click here.

Donations can be dropped off to any of the following sites from now through December 16, 2016:
A special thank you to the following Holiday Gift Project sponsors: