Sesame Street Communities Announces Partnership with Center For Family Services to Provide Resources to Camden Children and Families
Sesame Street Communities Announces Partnership with Center For Family Services to Provide Resources to Camden Children and Families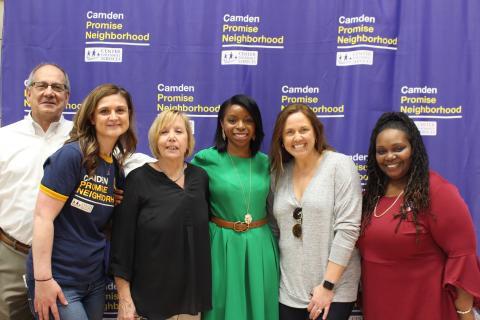 Camden, NJ – Sesame Workshop, the non-profit educational organization behind Sesame Street, has selected Camden as a  Sesame Street in Communities (SSIC) partner, a nationwide initiative to support parents, caregivers, and community providers in their efforts to give all children, especially the most vulnerable, a strong and healthy start. This initiative supports local families with young children under age 5, with free, easy-to-use resources on a range of topics including managing asthma, building resilience, and coping with traumatic experiences.
In celebration of this partnership, Center For Family Services hosted Sesame Street Saturday on Saturday, April 13th  at U.S Wiggins College Preparatory Lab Family School, located at 400 Mount Vernon Street in Camden. Families enjoyed two live performances by Sesame Street's Alan, Abby Cadabby and Rosita,  photos with Cookie Monster as well as food, games, and community resources. 
 "We are so excited to bring Sesame Street in Communities to Camden, NJ, a community that cares deeply about fostering the healthy development of its youngest residents," said Dr. Jeanette Betancourt, Senior Vice President of U.S. Social Impact, Sesame Workshop. "Together with our wonderful partners at the Hispanic Family Center and the Center for Family Services, we will build a circle of care around all children—especially the most vulnerable."
The partnership will allow Camden residents and their families to take advantage of a host of free programming, trainings, books and other key resources offered by Sesame Street in Communities including Cozy Comfy Corners – a safe space for children to read, learn and cope with traumatic experiences.
"Thanks to our partnership with Sesame Workshop, Center For Family Services has been able to connect families with resources and activities designed to help children recover from trauma, promote self-care and resilience, and celebrate play-based learning, both at home and on the go," said Richard Stagliano, President and CEO of Center For Family Services in Camden, New Jersey. "We are proud to be counted among the Sesame Street in Communities agencies throughout the country."
Sesame Street in Communities is made possible by generous support from the Robert Wood Johnson Foundation (RWJF), the nation's largest philanthropy dedicated solely to health, and the Joan Ganz Cooney Fund for Vulnerable Children.
Center For Family Services –Center For Family Services is a non-profit organization whose mission is to support and empower individuals, families, and communities to achieve a better life through vision, hope and strength. It is their vision that all people lead capable, responsible, fulfilled lives in strong families and healthy communities.
About Sesame Workshop -Sesame Workshop is the nonprofit educational organization behind Sesame Street, the pioneering television show that has been reaching and teaching children since 1969. Today, Sesame Workshop is an innovative force for change, with a mission to help kids everywhere grow smarter, stronger, and kinder. We're active in more than 150 countries, serving vulnerable children through a wide range of media, formal education, and philanthropically-funded social impact programs, each grounded in rigorous research and tailored to the needs and cultures of the communities we serve. For more information, please visit www.sesameworkshop.org.
Camden Promise Neighborhood Team
Camden Coalition of Healthcare Providers
Camden City School District
Camden County College
Camden County Police Department
Camden High School
Campbell Soup Company
Center For Family Services
City of Camden
Community Planning and Advocacy Council
Community Residents
Cooper Foundation
Cooper University Hospital
Cooper Medical School at Rowan University
Cooper Lanning Civic Association
Food Bank of South Jersey
Girls Inc.
Holman Automotive
Hopeworks
KIPP Cooper Norcross Lanning Square Primary  
KIPP Cooper Norcross Lanning Square Middle 
KIPP Cooper Norcross Whittier Middle 
Lanning Square West Residents in Action
Nicholson Foundation
Rowan University
Rutgers University - Camden
Southern New Jersey Perinatal Cooperative
Subaru of America
United Way of Greater Philadelphia and Southern NJ
U.S. Wiggins College Preparatory Lab Family School
YMCA of Greater Philadelphia