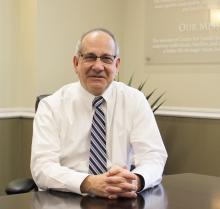 Chief Executive Officer
Richard Stagliano, Chief Executive Officer, is a licensed clinical social worker and a licensed marriage and family counselor with more than 45 years of experience in the human service field.
Stagliano spearheaded numerous innovative programs in the areas of Behavioral Health, Child and Family Services, and Victim Services. Under his leadership, Center For Family Services has remained true to its mission and responsiveness to community needs. Stagliano started his career in 1975. In 1981 he became the Director of Family Counseling Services, and he was named Executive Director in 1991. In the year 2000, Stagliano facilitated a merger of three small nonprofits, Family Counseling Services Inc, Together Inc. and Reality House Inc,  to create a new organization, Center For Family Services Inc. Following the merger, Stagliano was named President & CEO. 
Stagliano led the organization's rapid growth over the last two decades, facilitating several additional mergers and acquisitions. Under his strong leadership, Center For Family Services became one of the largest social services organizations in New Jersey, operating numerous federal, state, and county contracts. With a staff of over 1500, Stagliano led Center For Family Services to be recognized as a trusted partner and provider, and one that readily adapts to meet the growing and changing needs across New Jersey.
He holds a Bachelor's Degree in Psychology from Rutgers University and a Master's Degree in Social Work from Columbia University. Since 1984, Stagliano has been a faculty member at Rutgers University School of Social Work. He has served as the President of the Family Service Association of New Jersey, a member of the Governor's Task Force on Child Abuse and Neglect, a member of the CEO Council, a member of the National Alliance for Strong Families and Communities, a board member of the Camden County United Way, a member of the Commission on Abused and Missing Children, and a consultant to numerous community groups and organizations.
In 2016, Stagliano was awarded with the Outstanding Service Award from the National Association of Social Workers, NJ Chapter, for outstanding service to the local community. In 2018, he was recognized as one of South Jersey Biz Magazine's 2018 Executives of the Year.