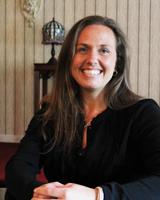 President & Chief Strategy Officer
Merilee Rutolo, President & Chief Strategy Officer, has led Center For Family Services rapid growth over the last two decades. 
Under her leadership, Center For Family Services has become a well-known and trusted human services agency in the state of New Jersey. Her expertise in program development and implementation led to growth in all areas of specialized services. Rutolo's leadership and relationship building at the federal, state, county, and community level led to a significant increase in parternships that brought key funding to communities across the state. Her work led to an expansion of important services that address key needs in our New Jersey communities.
Rutolo has a Bachelor of Arts Degree in Journalism, Government, and Politics from the University of Maryland and a Masters in Public Administration from Rutgers-Camden. Rutolo serves on the board of the Camden Coalition of Healthcare Providers and Camden Health & Athletic Association (CHAA), is a member of the Association of Fundraising Professionals, and serves on the National Alliance for Children and Families, a tri-county prevention coalition to end sexual violence, and numerous other state and county coalitions. 
She was named one of South Jersey Magazine's Super Women of the Year in 2018 for her dedication to improving lives and communities in New Jersey.