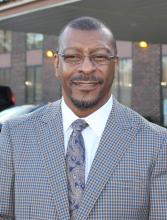 Chief of Human Resources
Marion McLaurin, Chief of Human Resources, manages employee relations and offers support to over 1500 agency staff. 
During his career, McLaurin has been key in developing cultural competence and diversity trainings as well as managing trainings that support treatment care initiatives for clients. He is a skilled decision maker with strengths in quality improvement, policy development, and organizational management.
McLaurin joined the executive team in 2018 after Center For Family Services merged with Family Services Association where he previously served as Chief Administrative Officer. His over 20-year career in human services has provided him expertise in compliance, and administration in addition to human resources.
McLaurin holds a Bachelor's degree in Business Administration Management from Howard University and a Master's degree in Divinity from Palmer Theological Seminary as well as certifications from Georgetown University's Leadership Academy and the Executive Leadership Institute. Marion is also an active member of the Alpha Phi Alpha Fraternity, Alpha Theta Lambda Chapter.