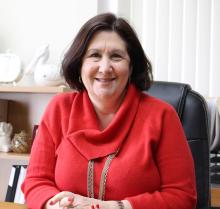 Chief Administrative Officer
Cindy Herdman-Ivins, Chief Administrative Officer, has been serving New Jersey families for over 25 years. As a clinician and counselor, Ivins worked directly with the families she now serves as an administrator.
Mrs. Herdman-Ivins spearheaded a merger between Family Service Association and Center For Family Services in 2018. Following the merger, she joined Center For Family Services as the Chief Administrative Officer.
Prior to the merger, Mrs. Herdman-Ivins served as the President at Family Service Association. During her seven year tenure as President, Ivins expanded services and positioned the organization as a leader in the state.
In her role at Center For Family Services, Mrs. Herdman-Ivins is charged with overseeing both behavioral health services and administrative services including human resources, information technology, quality improvement, billing, and data tracking. 
In the field, Mrs. Herdman-Ivins is regarded as a thought leader. She manages according to best practices and is well-known for driving strategic initiatives to improve operations through strong fiscal management, team building and effective communication. Her leadership strengths include policy and planning, strategic analysis, program development and training and coalition building.  Professionally, Mrs. Herdman-Ivins has stayed true to her roots as a clinician and understands the work and level of care that social workers and case managers witness in the field every day. 
Herdman-Ivins holds a dual Bachelor's Degree in Psychology and Economics from Rutgers University and a Master's Degree in Counseling Psychology from Boston University.