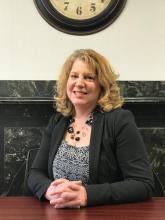 Chief Financial Officer
Barbara Ogden joined Center For Family Services in 2017. As Chief Financial Officer, she is responsible for the organization's financial and strategic management.
With nearly 30 years of experience in Finance and Accounting, Ogden has extensive knowledge in providing accounting, tax, and consulting services across industries in both the public and private sectors.
Since joining Center For Family Services, Ogden has been instrumental in developing and enhancing fiscal functions meant to improve overall effectiveness of the organization. She has led efforts to streamline financial and procedural policies, including a revamp of the organization's payroll processes to best meet organizational needs. Providing evaluation and analysis for long-range planning, Ogden has helped Center For Family Services continue to implement measures that support its strategic direction.
Ogden holds a Bachelor of Science degree in Accounting from Rutgers University and an Executive Master of Business Administration from Saint Joseph's University. Barbara is a licensed CPA in the state of New Jersey and an active member of the American Institute of Certified Public Accountants (AICPA).