Ruth and Steven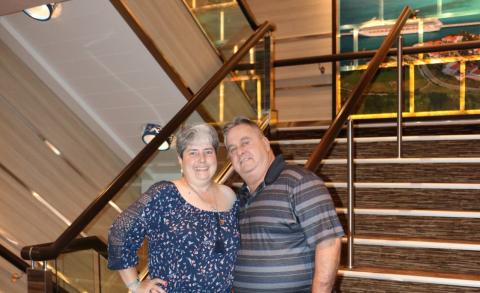 Overview:
We are Ruth and Steven and it is our dream to become parents and devote our lives to a child. Our family has so much love and laughter and we look forward to the day we can share that with a child. We dream of raising a family grounded in love and a deep sense of respect for each other. The thought that you could consider us an option for your baby is an honor. To bring a child into our home would bring a sense of wholeness to our family. We believe everything in life happens for a reason and look forward to taking this journey with you.
Our home is situated on a corner lot with a large fenced backyard. It is a wonderful place filled with love and located in a safe, family-friendly neighborhood. Our nieces and nephews love to visit often and love to play at the playground a few blocks away. We can't wait to build a play set for our future child in our backyard. I can picture the three of us playing on the swings or climbing up into the castle. We can't wait to bring our future child and our dog, Sammy Girl, to the park to join the other children and their families for a great time. We want our future child to grow up with the same opportunities that we had and this is why we love living in our small town where they can grow up in a loving and supportive community.
Ruth is the most loving, nurturing person I know. She has shown unconditional love to her nieces and nephews. She would teach our future child to love life. Ruth cannot wait to hold and cuddle our future child, and introduce him/her to her love of Disney. Ruth will make a wonderful mom because she is a nurturer. She looks forward to holding our future child's hand and walking him/her to all of our favorite places in the neighborhood. She dreams of walking him/her to the first day of school, and crying when he/she climbs on the big yellow school bus. If there is anything that I hope she will pass on its her love of life and her amazing personality.
Steven has the biggest heart of anyone I know. His smile lights up a room. He has endless energy, love for me, and for his family. He would make a terrific and loving dad to our future child. I can see him playing with baby toys and building blocks with our future child. I can also picture Steven sharing his love of animals and board games as our future child grows. Steven looks forward to being a dad by just being there every day to kiss and hold him /her and surround him/her with safety and security always.
Just as we promised to love and honor each other when we were married, we promise to love, honor, and always care for our future child. Through our open adoption plan, we would like our future child to respect the bond that he/she will have with you. We promise to send letters and pictures as our future child grows. If you choose us, we would like you to know that your child will be the love of our lives every single day. Our home will be filled with love, laughter, and the sounds of a happy child. We wish you comfort and peace in your decision. You are strong and courageous, and most of all loved.
Adoption Pledge:
We promise to provide a nurturing home complete with family dinners, celebrations, and most importantly communication. We will make sure that your child understands how much you love and care for them. We will be forever grateful to you for the priceless gift you are sharing with our family. We admire your courage during this challenging time and we have so much respect for you as you determine the best path for you and your child. We promise to provide pictures, letters, and updates as he/she grows. We hope you will find comfort in your decision to place with us and cannot tell you enough how much we admire your strength.