Christopher and Candace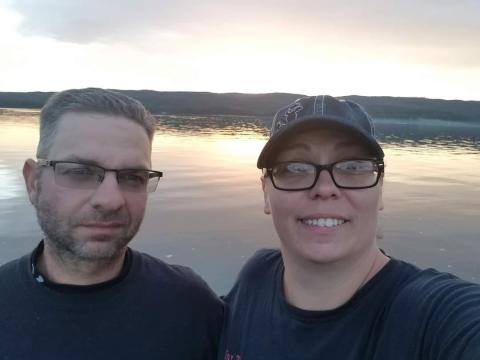 Overview:
Hi! We are Christopher and Candace. We want to thank you so much for considering our profile.  You are making the hardest decision you have ever made in your life, and by doing so, you will provide an amazing life for your child, a life full of love and happiness. We are honored that you are considering putting your trust in us to raise your child.
We met 17 years ago and have been married for fifteen years. We have built a relationship on trust, love, and respect. We have so much fun together and love our life together. Becoming parents has been a dream of ours since we started dating. Chris is kind and straight forward. Candace has a sense of humor, and a sense of independence.  We love to do things together and spend time with our families. During the summer we love to be outside and find new places to explore. During the winter we tend to stay indoors either watching TV together or having fun playing video games with other family members. Spending time as a family is important to us and we cannot wait to have exciting adventures with our future child and find new things to see and do with him/her.
We live in a bi-level home with 4 bedrooms. Our living room is our favorite room in the house, probably because it's where we spend the most time. We have a very large backyard with a fire pit that we love sitting around and relaxing with family and friends. The neighborhood is quiet. We see a lot of kids riding bikes and playing games. We also live within a quarter mile of both an elementary school and a middle school. Our community holds a lot of events for children and we look forward to attending them with our future child. There is also a town farmers market that we enjoy attending and showing our support for the local businesses. There is a beautiful park close by and we cannot wait to take our future child to play on the playground.
Chris is from a large family of nine children. Chris is hardworking, funny, and most importantly loving. He does not give up on anyone. He is protective of those he loves and he was determined to give us a good life and provide for us. He was previously in the army for 6 years and though he looks tough on the outside he is really a big softie. He loves animals. He enjoys reading graphic novels and doing yardwork. He loves to play with our nieces and nephews. If he could have any job in the world, I think he would be a superhero. He dresses up for Halloween every year as a different super hero. He takes pride in each of his costumes and even had me sew a cape that would blow in the wind one year for his batman costume. I know he is looking forward to dressing up with his future child each year and taking them trick or treating. He loves children and I know he will not only be the best provider for his future child but he will ensure he is a fun and loving role model that his future child can look up to.
Candace is from a small family. She has one older brother. Candace is an amazing person who continues to surprise me. She has been through a lot in her life but she came out a better, stronger person because of it. She enjoys making artwork, other crafts, and baking. She makes baby clothes and blankets. She loves canoeing and camping and is looking forward to sharing these activities with her future child. I know we will have a ton of artwork made by our future child all over the house. Candace is the most loving and compassionate person I have met and is always there to help anyone that needs it. I cannot wait to see Candace as a mother and am grateful I will be alongside her every step of the way.
Adoption Pledge:
We want to help our children find their passion in life and support them on their journey. They will grow up with love and support every day. We will always be honest with them about adoption and their heritage. Thank you for considering us as potential parents for your child. We can't imagine how difficult a decision this is for you. We promise to share with you through photos and letters your child's growth and experiences. Family is everything to us and we hope our family is what you are searching for.