Portraits of Promise
Portraits of Promise was created as a way to combat negative stereotypes associated with the City of Camden. It is a way for the Camden Promise Zone to highlight the good that is going on in the city particularly through those who choose to live and work in Camden. These people not only make Camden a colorful place to live, work, and visit, but they work hard to continuously make the City better through their commitment and determination to revitalize the city. 
This month we decided to highlight Rosemarie Hicks (pictured below), owner and founder of CoWork Street located in downtown Camden. Read the interview to learn more about her business, why she decided to start it in Camden, other ways in which she gives back to the city, and advice for entrepreneurs!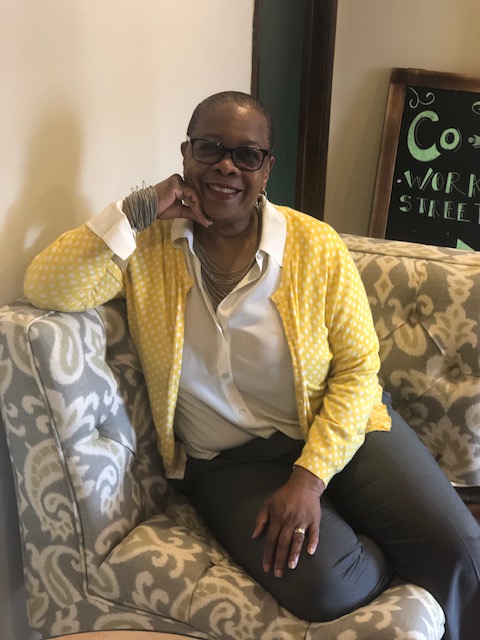 To visit the CoWork Street website 'Click Here'
What motivated you to open your business in Camden?
Hicks: When I first started looking for a brick and mortar space, I noticed a lot of the activity and positive energy in Camden, current entrepreneurs were excited about the renewal and hopes for business opportunities.  Additionally, I appreciated the fact that it was primarily a black and brown city that was going through a resurgence. I wanted to be part of that, and I was happy or pleased with the fact that there seems to be a renewed focus and shift of what Camden can become again.
The majority of my career has been a human resources executive and consultant and for many years worked out of a home office.  I had a client looking to relocate their business, so I suggested Camden. With everything that was happening in the city, he followed my advice relocated his business; the company currently operates a couple of doors away from CoWork Street.  
As it happened while helping him find a building he temporarily relocated to an office space on Federal.  There a broad mix of businesses was working side by side in a shared environment interacting and to some extent, collaborating.   After researching the concept, I discovered coworking was of the fastest growing business model in the country. However, I found the vast majority of the occupants lived outside of Camden.  So, I decided I would open a space to provide local, entrepreneurs with a place where they could collaborate, forge business relationships as well as networking with other like-minded entrepreneurs.   I wanted to be part of Camden's resurgence, but more important make a difference so that local businesses were not forgotten in the massive growth. I wanted a place that represented the flavor of Camden, diverse, innovative, and most of all….a community.   
Can you explain what your business does or is?
Hicks: CoWork Street is a shared collaborative membership-based workspace.  We provide micro businesses, startups, entrepreneurs, creatives, and freelancers an affordable place to advance their passion.  Typically, or historically you have entrepreneurs working out of coffee shops, cafes, the library or working out of a home office.  When you're talking about some of the others like Panera Bread or Starbucks, you're in a coffee shop environment which can become quite expensive; you don't have a place where you can meet clients or collaborate with other entrepreneurs.  
CoWork Street provides a place where you can have client and vendor meetings, handle business operations and on occasion obtain a business referral. It's business cost sharing with a purpose.  Space is also configured for training classes, and event space hosting. Most membership levels are month to month and allow members to scale up or scale back on space usage based on their finances. It was essential to have flexible options because the ebb and flow of clients in the early stages can significantly impact the bottom line.  
CoWork Street promotes business collaborations, networking, and referrals.  Several of the businesses also utilize other services. It is not uncommon for two companies to collaborate on business proposals.
What type of people or organizations utilize the space?
Hicks: A great variety of businesses operate out of CoWork. There are construction companies, commercial cleaning companies, finance companies, several non-profit organizations, marketing firms, attorney, urban farmer, florist and human resources consultant (just to name a few).  An event planning company is planning to move in this summer. About 15 distinct businesses are utilizing the space. I also have folks that come in and use the area on weekends and evenings for separate events and parties.
It's a cross-section of business, and again I think this is good because there is enough here that if anyone needs assistance or if there is a shortfall in what they are looking for or a different pair of eyes can provide a different perspective.
I have one member that depending on the number and size of the client, determines whether they have a 5, 12 or full 30-day membership.  It really provides flexibility for our membership base. We offer a business home until the member is ready to strike out on their own. Whether it's, part-time or full-time, CoWork can accommodate all.
A beautiful unintentional consequence of the opening is that the majority of the folks in the space are business owners of color.  They live or at one point in their life lived or have family in Camden City. An organically grown space where we look like the community in which we operate our business.  We support each other when necessary.
I hear them talk about Camden of the past, current changes and the need to give back.  They understand the City, it's where many grew up or were part of it one time or another in their life.  Now they are committed to coming back and giving back to the community. What's the saying, "leave a little better than you found it"  This is their, own ecosystem.
Are you involved in the community in other ways? If so, what are you involved in and why?
Hicks: Yeah, I am a member of the Affirmative Action Committee for the City of Camden. I also sit on the HR advisory board for the Kroc Center (Salvation Army), as well as several local non-profit boards.  Part of CoWork Street Community gives back is through hosting or donating the space for "Holiday Toy Collection" Kids Yoga and Art Classes. We also conduct training and courses for entrepreneurs, at a reduced cost or free.  
I am personally committed to helping entrepreneurs/micro businesses position themselves for substantive, sustainable business growth.  Part of the equation is making sure they have an organizational structure so when an opportunity presents itself or is available there's nothing to stop them from being able to bid and hopefully secure the business.   
Many micro/small organizations are losing out on opportunities because they lack the necessary credentials.  CoWork Street needs to be that place where folks can come and secure what's required.; whether it's simple encouragement or guidance or a one-time class or a series of workshop training.  I am a prime example of a micro business profile. We wear many hats, and there is only a finite amount of dollars you have to sustain your business. You have to be your own social media person, your marketing person, your accountant, to make sure your books are in order and all of these other tasks necessary to run a business. You have to be visible in the community, networking and interacting with potential and current clients, making sure you and your business stay relevant.  Using a finite bucket of money, where am I going to focus my efforts this month to advance my business?
At CoWork we understand and aim to be "that space" to help you focus, a place to "breathe," provide guidance, referral, a soothing cup of "coffee or tea."   
Do you have any advice for small businesses looking to move into the city or get involved?
Hicks: I would say 1) pen to paper-articulate your vision; understand your "why" and "how" 2) make sure you have all of the necessary business registrations completed, get your paperwork in order 3) tenacity; you really need to understand that it does not happen overnight. When you have a setback, you have to get up and try again and again and again.  4) Believe in it from the inside out; it starts with your belief and willingness to walk toward your dream.
It's a lot of work, but if you do have a passion, you should pursue it.  
As business people, we at times focus too much toward the monetization aspect of what we're doing.  We also need to understand that monetizing happens through relationships. People won't initially know you, so you have to sell yourself at each contact, every meeting, and networking event (directly or indirectly).
I'm talking about being in the moment, being present, being real, and not that quick one-minute elevator speech because that sounds very artificial. I think if you share your passion with people, people will eventually buy into that passion, but you also have to know and understand how to market, sale, and brand what you do and realize that every time you are out there, you are speaking for your business.
It won't happen overnight, and it may not happen in your first 6 months, a year or 18 months to 2 years. I think that sweet spot is really somewhere between 2- 3-year mark, which means you have to decide whether that 3-year mark means doing it on a part-time basis or stepping out there on faith.  
If doing it full time, it means full time.  Your own business is not a 9 to 5. Sometimes it's 7 days a week and some days it's 10, 12, 15 hours a day, but realize that if you stick with it and believe in yourself, you can succeed.
You're going to have shortfalls or road taken that didn't work out; don't let that stop you. It should just encourage you that you got something done as opposed to getting nothing done. Internalize that old saying "If you don't know where you're going, any road will take you there."  
As Abe Lincoln once said, "The best way to predict your future is to create it."
Anything else that you would like to mention about your business, story or the city of Camden?
Hicks: Come and join us at CoWork Street. They always say people forget to do the ask, so that's my ask.  This is a great place to work, and CoWork Street offers a lot of opportunities for micro businesses, entrepreneurs, freelancers, and creatives to be themselves.
We understand what it takes and is here for you.  This is a place where all are welcomed if you are looking for a group of people to work around and provide encouragement and support.  We make it possible for entrepreneurs to create their business story.
For the City of Camden, my message to them is to sharpen their efforts to assist local small businesses.  The growth is fantastic, the pace is rapid and ongoing. During this growth period, I challenge the City to grow in a way that is equitable for all its entrepreneurial partners (both small and large) that will allow everyone to really grow and thrive in Camden city.