Community Unites to Speak Out Against Gun Violence
Community Unites to Speak Out Against Gun Violence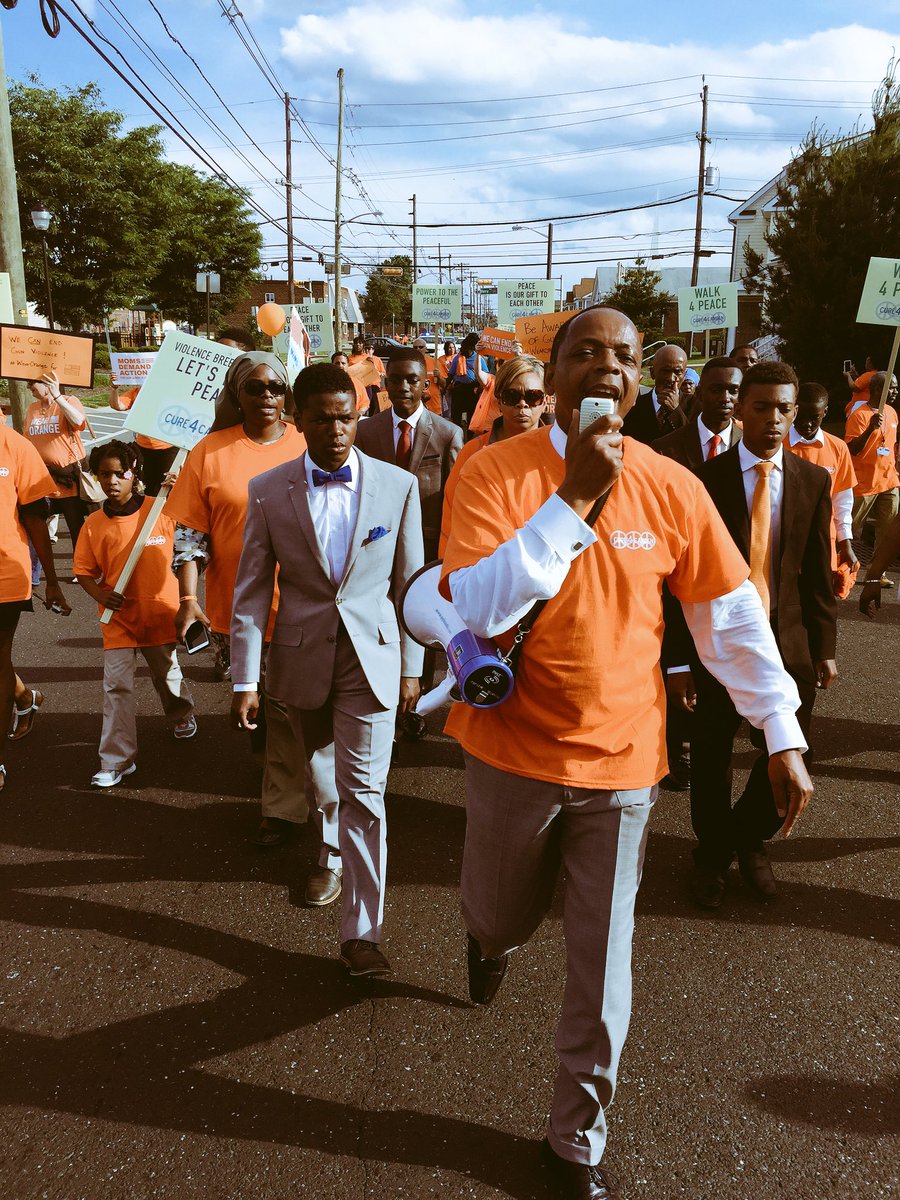 June 2 presented a collaboration between Center for Family Services' Cure4Camden, the Office of the Mayor, and Moms Demand Action for Gun Sense in America. Together they organized a Walk For Peace & Community Gathering to observe National Gun Violence Awareness Day, a day specifically honoring the more than 30,000 American lives killed by guns annually, in addition to the countless others who have been impacted.
Many partners, stakeholders, and residents came out to Elijah Perry Park, as the Walk For Peace was the opportunity to come together and speak out against violence in the community. Attendees were encouraged to wear orange, in support of the Wear Orange initiative started in 2013 after 15 year-old Hadiya Pendleton was shot and killed while on her way home from school in Chicago. Orange was specifically chosen by a group of Hadiya's friends because it is the color worn by hunters to announce their presence and protect themselves and others from unintentional shootings. Having grown into a national movement in the last couple of years, people in not only Camden City but throughout the entire country, wore orange to show their support for common sense solutions that will go towards saving many lives.
Prior to embarking on the peace walk, people at the event joined hand in hand for a moment of prayer, remembering those whose lives were ended due to guns. After praying for positive change in the community, the walk ensued. Walking through the surrounding neighborhoods, the large group, carrying signs and posters in hand, voiced the need to end the violence and promote peace on Camden's streets. The walk gained droves of support as residents looked on and applauded from their porches and drivers beeped their horns in solidarity while passing by.
Upon giving thanks to those in attendance for uniting for a common purpose, Mayor Dana L. Redd and Congressman Norcross spoke about the need to stop the senseless violence that occurs on both a city and nationwide level.
Congressman Norcross, who has called for gun-control legislation, touched on the immense grief that occurs due to gun violence. "The mothers that lose their children…the fathers, sisters, and brothers. The lives unled because a dispute happens and the first thing they do is go for a gun. That is a lot of pain. That's a lot of losses of life. And we do have the ability to stem that and that is what we are doing here today."
Events such as the one that took place on June 2 will help in stemming the tide. Everyone has the rights to safety and peace, and in order to safeguard these fundamental rights, the community must continue to take a stand to ensure lives free of violence.
In addition to community gatherings and peace walks, there are other efforts that can work towards stopping the epidemic that is gun violence. Addressing the crowd, Mayor Redd spoke on the complexities associated with violence. "Unfortunately much of the violence is rooted in various social issues like recidivism, re-entry issues, and behavioral and mental disorders – all of which contribute to the larger problem."
Mayor Redd then continued to speak about the wrap-around services featured in Camden City, which will "help to stop violence as an intervention and prevention strategy." One of those services is Cure4Camden, a community-based program that aims to reduce violence through methods associated with disease control. By employing a three-pronged public health approach that includes detection and interruption, behavior changes of high-risk individuals, and changing community norms, Cure4Camden works with a purpose to modify the underlying conditions that give rise to shootings and killings.
Cure4Camden also includes efforts to increase awareness and encourage community engagement in joining together to stop violence. One of the ways in which they do so is through peace walks like the one held on National Gun Violence Awareness Day. There was a great outpouring of support at Elijah Perry Park earlier this month and members of the community must therefore continue to get involved in events and activities that promote peace if we are to sustain the momentum and instill change within the City of Camden and elsewhere.