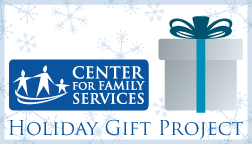 Get involved in this year's Holiday Gift Project to brighten the holidays for a child! With your support, we will be able to provide holiday gifts for the children and families we serve throughout southern New Jersey.
We are especially in need of gifts for the children and teens (age 10-18) living in our safe and supportive housing locations. Gift cards to clothing stores, shoe stores, movie theatres, and book stores make great gifts. Gift card donations can be mailed to: CFS Holiday Gift Project, 584 Benson Street, Camden, NJ 08103.
Interested in shopping for holiday gifts for a child in need? You can shop from our general gift list or you can "sponsor" a specific child or a group of teens from one of our group homes. Monetary donations are also accepted. With your monetary gift, we will do the shopping. Click the "Donate Online" button below to make an online monetary donation.
For more information, please contact Kelsey Sanderson or call 856.964.1990 x110. We appreciate your support in making the holidays more joyful for children and families in need.
Still unsure about the donation process? Visit our Frequently Asked Questions page for more information.
We still have over one hundred teens that we are trying to provide for, and your online donation can help us reach our goal of brightening the holiday for all of the young people that we serve.
---
---
Suggested General Gift List Items:
New winter coats (newborn - adult 3XL)
Hoodies (adult small- adult 3XL)
Pajamas (newborn - adult 3XL)
Gift cards (Preit Mall, Best Buy, Target, Old Navy, Wal-Mart, ShopRite)
Movie theater passes (AMC preferred)
Books (newborn - young adult)
Toddler education toys
Sports Equipment (NFL footballs, NBA basketballs)
Gift cards for the teens living in our safe housing locations (mall, Target, Walmart, Kohl's, Old Navy, movies)
*We can only accept new items
*Please provide gifts unwrapped

Donations can be dropped off to any of the following sites from now through December 14th:
A special thank you to the following Holiday Gift Project sponsors: