Home
› Holiday Gift Project ›
Holiday Gift Project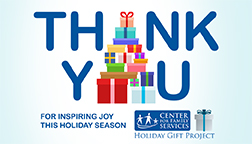 On behalf of the children and families we serve, we cannot thank you enough for your generosity, kindness, and commitment to helping us support over 2,000 children and teens through this year's Holiday Gift Project.
Your contribution continues to have a positive effect on children and families throughout the year. We rely on community support, and this year we are happy to say that you helped us more than ever!
We wouldn't be able to support these children without the help of our community partners who have generously sserved as drop off locations since Thanksgiving. Thank you to The Promenade at Sagemore, The Cherry Hill Mall, The Courier Post, Old Navy locations, Kohl's locations, and the countless individuals who coordinated drives within their organizations, community groups, and workplaces.
We truly wouldn't be able to do what we do without you!
---
---
Suggested General Gift List Items:
New winter coats (newborn - adult 3XL)
Hoodies (adult small- adult 3XL)
Pajamas (newborn - adult 3XL)
Gift cards (Preit Mall, Best Buy, Target, Old Navy, Wal-Mart, ShopRite)
Movie theater passes (AMC preferred)
Books (newborn - young adult)
Toddler education toys
Sports Equipment (NFL footballs, NBA basketballs)
Gift cards for the teens living in our safe housing locations (mall, Target, Walmart, Kohl's, Old Navy, movies)
*We can only accept new items
*Please provide gifts unwrapped

Donations can be dropped off to any of the following sites from now through December 14th:
A special thank you to the following Holiday Gift Project sponsors: