Senatorial Shovel: Cory Booker Joins Camden Cleanup Crew
Senatorial Shovel: Cory Booker Joins Camden Cleanup Crew
Phaedra Threthan/Courier Post
Tuesday, January 26, 2016
CAMDEN — While New Jersey residents are unlikely to see Gov. Chris Christie ride into Margate with a mop, U.S. Senator Cory Booker appeared in Camden Tuesday morning, two snow shovels slung over his shoulders.
The Democrat and former Newark mayor joined Camden Mayor Dana Redd, Camden County Freeholder Bill Moen and volunteers with the city's PowerCorps program to shovel out sidewalks, driveways and even an entire street.
Booker, however, would not be drawn into an exchange over Christie's testy answer to a woman in New Hampshire who asked him Monday why he was in the Granite State campaigning for president rather than in the Garden State, where flood waters linger in some shore communities.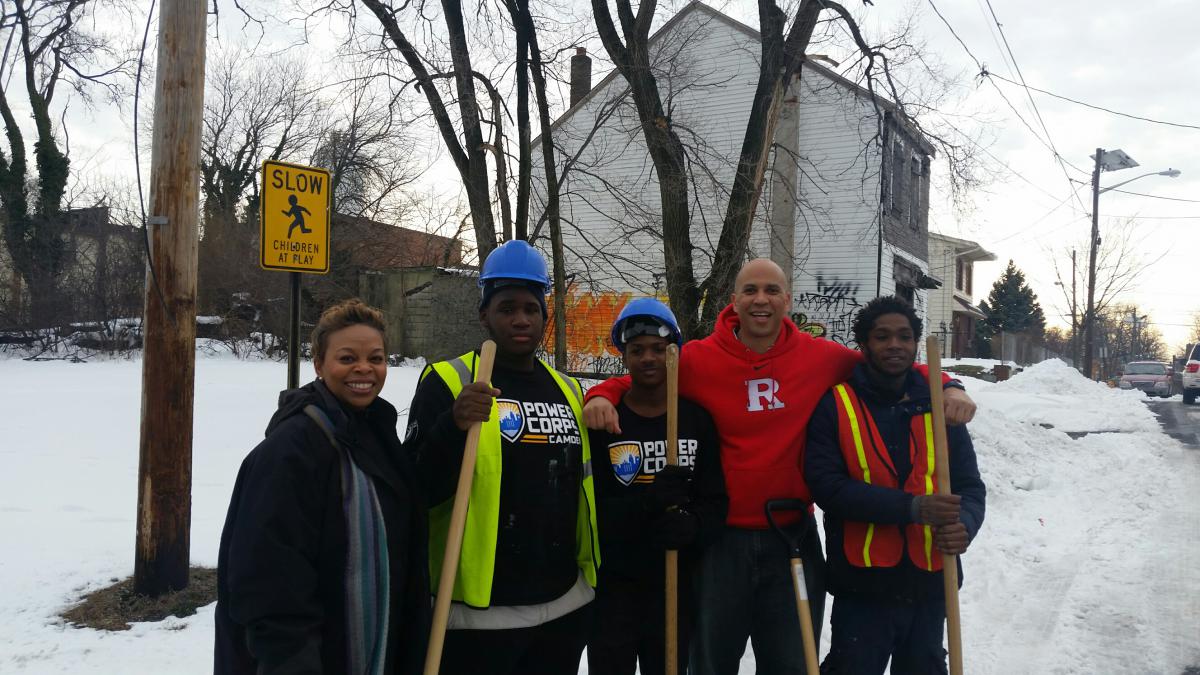 "I don't know what you want me to do; you want me to go down there with a mop?" Christie retorted after the woman said she had friends at the shore who sent her photos of flooding there.
"This is not the time to be pointing fingers," Booker said Tuesday morning outside the home of Helen Akins. "This is a time for everybody to lend a hand and pitch in, and I have to say, I was on the phone with the (Department of Transportation) and other state officials, and they've been doing a great job.
"This is New Jersey," Booker added. "We've shown that we're stronger than Sandy, now we'll show we're stronger than this storm.
"We're really at our best when we pull together, so let's not make this about political barbs today, let's make this about getting our state rolling again, and getting people back to work and school."
Akins was one of those who needed to get to work: The 73-year-old crossing guard was snowbound in her neat Thompson Street rowhome until Booker, Redd and their contingent showed up to shovel her out. The senator, sporting blue jeans and a bright red Rutgers University sweatshirt, made quick work of her stoop and walkway, then borrowed a reporter's pocketknife to puncture a bag of rock salt.
As Redd leaned in the doorway to hug Akins — "I've known Dana since she was little," said the lifelong city resident — Booker laughed and told her, "Hey, I want some of that sugar, too."
She seemed happy to oblige. "This is beautiful," she said, noting she celebrated a birthday Monday. "This is the best present I could get."
Zaquan Smith, Keith White and Shannon Murphy, all PowerCorps volunteers, helped Booker, Redd, Moen and public works employees shovel and salt the slick walkways. Booker called the three "Camden superstars."
"It feels good to help," said Smith, an 18-year-old from Centerville. "This is what I signed up to do."
Moving to the city's Rosedale section, the crew found a common conundrum for tight neighborhoods with narrow streets: The snow had drifted into the street, so while the walkways were mostly clear, the roadway of the 100 block of 32nd Street was impassable.
As Booker and the others set to work, bringing in buckets to carry snow away and calling for front-end loaders, residents surveyed the scene, cheering as they realized what was happening.
To continue reading this article, click here
Contact
Jen Hammill
, Associate Vice President of Public Relations
609-238.1271
856.651.7553 x40129