Non-profit honored by New Jersey Association of Mental Health and Addiction Agencies
Contact: Jennifer Hammill, Director Community Relations             
P: 856-964-1990 x 129                                                          
C: 609-238-1271                                                                   
F: 856-494-1442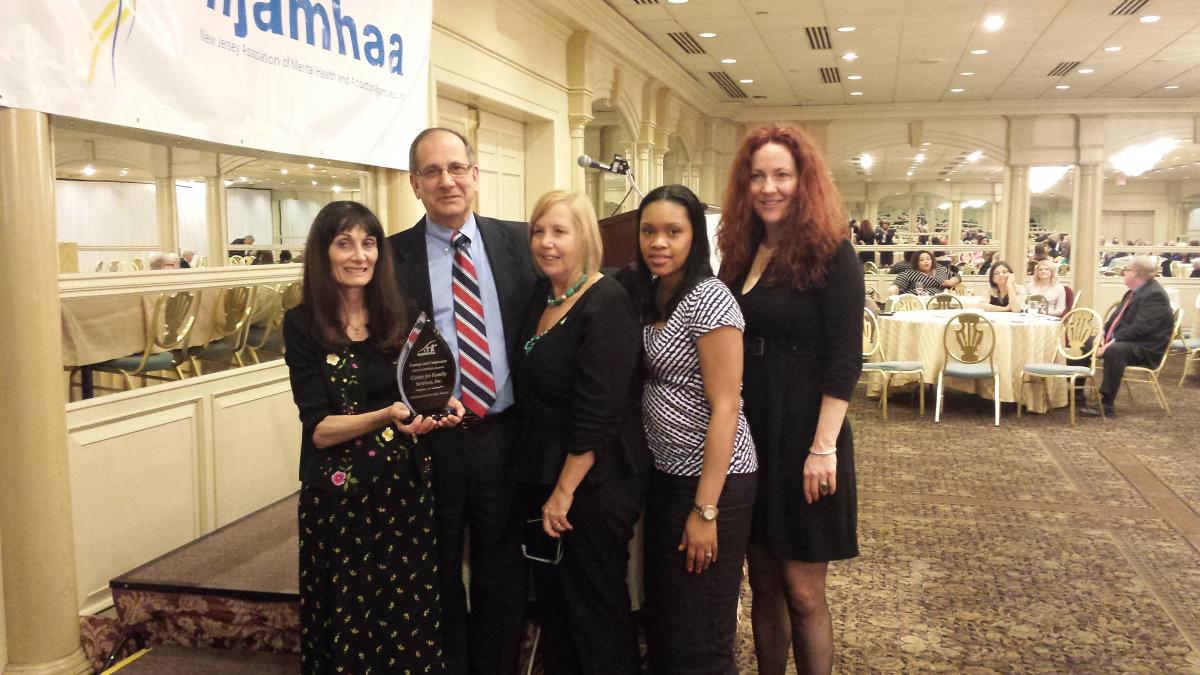 CAMDEN-Center For Family Services (CFS), a leading nonprofit in the southern New Jersey community, was honored as "Provider of the Year" by New Jersey Association of Mental Health and Addiction Agencies (NJAMHAA) at their Courage & Compassion Awards Reception on April 2, 2014 at Pines Manor in Edison.
The annual event provides NJAMHAA the opportunity to honor the outstanding employees and leaders of their member organizations and other advocates and dignitaries. NJAMHAA is comprised of the leading mental healthcare and addiction treatment providers who treat New Jersey residents with mental illness, addictions or co-occurring disorders, as well as families of these individuals. 
Center For Family Services was chosen as the 2014 Provider of the Year based off of a remarkable year which included obtaining highly competitive Federal and State Grants that have allowed them to offer an even broader comprehensive, one stop service delivery experience for children and families throughout southern New Jersey.
With the addition of the Living Proof Recovery Center, Navigator Exchange Program, Transitions Group Home which offers diagnostic assessment for youth in a healing home environment, and numerous other initiatives, CFS continues to take a holistic, eclectic, and comprehensive approach to helping individuals and families facing complex life difficulties. 
"Center For Family Services is honored to be selected as NJAMHAA's Provider of the Year", said Richard Stagliano, CFS President & CEO. "This recognition is a reflection of our hard working, talented staff who continue to break down the barriers associated with addiction and mental health by providing the latest and greatest in treatment." 
NJAMHAA is a community-based system comprised of hospital-based and freestanding non-profit behavioral healthcare providers that utilize advocacy, education, training, mutual support, development of key partnerships and a variety of services to assist its members improve the availability and quality of behavioral health services throughout the state.
###
Center For Family Services: Center For Family Services is a non-profit organization whose mission is to support and empower individuals, families, and communities to achieve a better life through vision, hope and strength. It is their vision that all people lead capable, responsible, fulfilled lives in strong families and healthy communities.