Youth Shelter Dedicates Garden in Memory of Longtime Donor
Youth Shelter Dedicates Garden in Memory of Longtime Donor
Together Youth Shelter recognizes local woman with "garden of peace"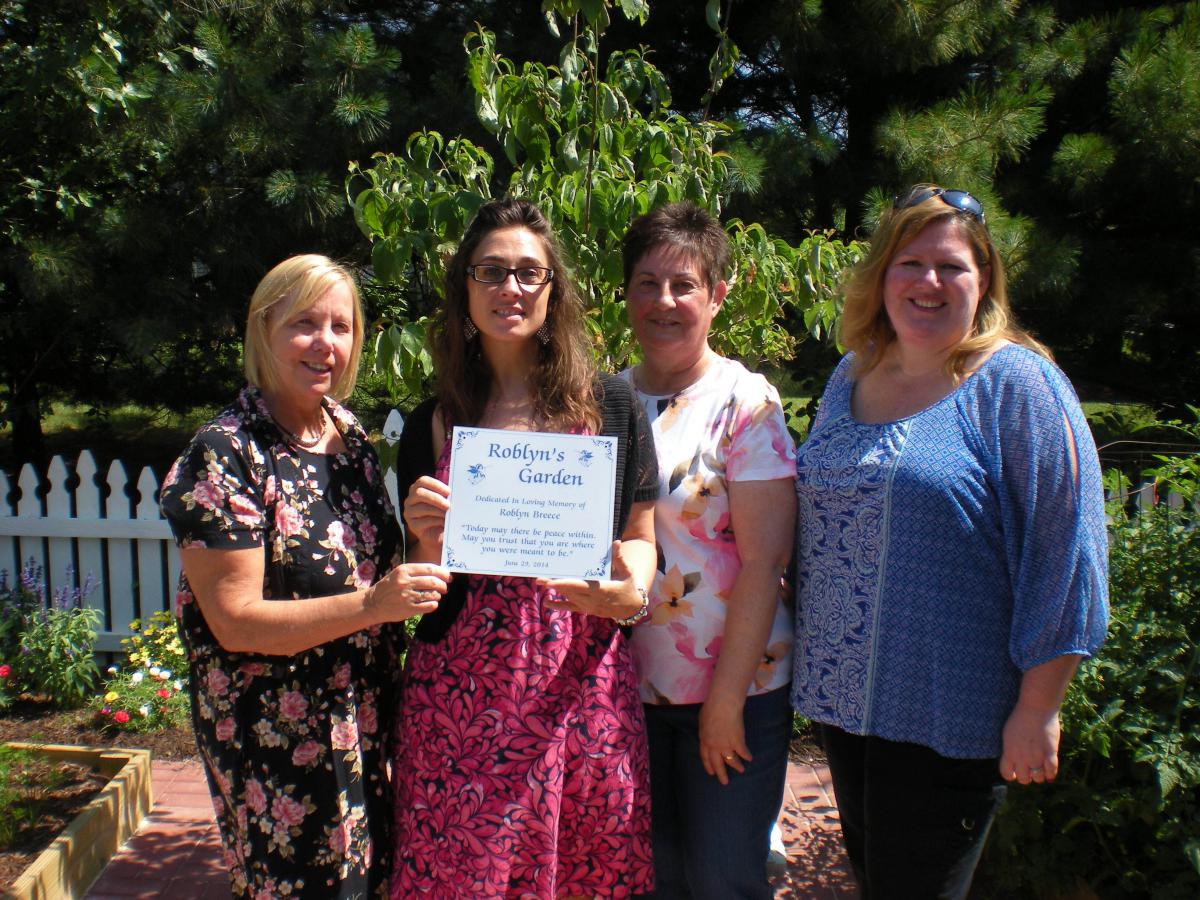 GLASSBORO, NJ- "Today may there be peace within. May you trust that you are exactly where you are meant to be." Saint Therese of Liseaux's inspiration and reassuring quote is now a permanent fixture at Center For Family Services' Together Youth Shelter where it is engraved on a plaque within the newly created "Roblyn's Garden", dedicated in memory of the late Roblyn Breece of Gloucester County.
Roblyn's passion and commitment to Together helped provide the comforts of home to hundreds of youth each year.  Through her generous support children and teens got to continue a life of normalcy while at the emergency shelter. Roblyn, a member of the Four Seasons at Weatherby in Woolwich, also got her community involved by coordinating donation drives that provided books, pajamas, movie tickets, back to school supplies and so much more to the young men and women at Together. 
 "Roblyn was dedicated to providing a better life to the children served at Together Youth Shelter," said Eileen Henderson, Chief Operating Officer, Center For Family Services.
Center For Family Services' Together Youth Shelter is one of the only short-term, walk-in shelters in southern New Jersey, providing 24-hour emergency shelter for runaway, homeless, and/or neglected youth age 9-18. Together is a caring and healing home for children where they receive support and work on their future with the goal of family reunification. 
Because many of the children that come to Together for help arrive in the middle of the night, they often come with just the clothes on their back and nothing else. Together relies on community support, supporters like Roblyn and her friends at Four Season's at Weatherby, to provide youth with basic essentials when funding is no longer available.  
Before Roblyn's passing, she decided to invest her energy into rebuilding Together's garden, knowing it could become a place of activity and reflection for the youth. Although she didn't live to see it to completion, her family and friends made sure it would serve as one last memory of Roblyn's kind spirit.
On Sunday, June 29th, family and friends of Roblyn gathered at Together Youth Shelter with program staff to remember the woman who so selflessly gave her time and money to children in need of a safe haven. The garden, which will be tended to by youth living at Together and Roblyn's family, will serve as a sanctuary for the youth, providing them with a peaceful place to heal.   
"She was always thinking of what more could be done for the children and the garden is a reflection of that. She will truly be missed by our youth and our staff."
For more information about Center For Family Services or how to get involved with Together Youth Shelter, please visit www.centersffs.org.
Contact
Jen Hammill
, Associate Vice President of Public Relations
609-238.1271
856.651.7553 x40129