Camden Promise Zone - A City Invincible
Camden Promise Zone - A City Invincible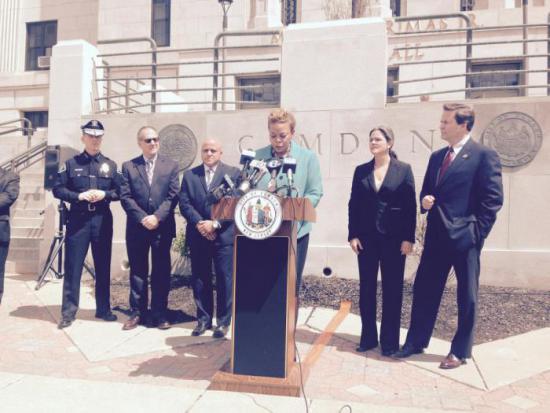 A child's zip code should never determine their destiny. As it stands, the community in which a child lives highly affects their chances of graduating high school, maintaining a healthy, nourished lifestyle, and receiving economic opportunities that are so critical to thriving in today's society.  The Obama Administration recognized this issue and created the Promise Zone initiative in order to provide solutions for those living in high-poverty communities. The unfortunate fact is that opportunity is disproportionate between the various social classes and Promise Zone therefore aims to re-establish balance by working with local leaders of underserved communities in efforts to rebuild.
In April 2015, Camden, New Jersey received the Promise Zone designation in the second round of the initiative. The City of Camden has been highly publicized over the years as crime and poverty have beleaguered the city, but Mayor Dana L. Redd and partners have set forth improvements that have given the community reason for hope in recent years. The United States Department of Housing and Urban Development has bought into this hope by selecting Camden out of a competitive pool of 123 Promise Zone applicants.
The Camden Promise Zone team is comprised of the Office of the Mayor and local organizations that are entrenched in the overall effort to transform the City of Camden. The Promise Zone partners are Center for Family Services, Cooper's Ferry Partnership, Camden City School District, Campbell's Soup Company, Housing Authority of the City of Camden, and Camden County Police Department. Each of these partners will spearhead a specific goal area, implementing strategies and activities that are part of a comprehensive plan put in place to achieve the five goals for revitalization. Those goals include: Increased economic opportunity, improved educational opportunities, improved health and wellness, increased access to affordable and safe housing, and reduced violence and crime.
As a Promise Zone designee, Camden will benefit from priority access to federal grants and resources that will aid the city in carrying out their plan. In addition to this competitive advantage, Camden will also receive a federal liaison that will provide assistance in navigating federal programs, a staff of five AmeriCorp Vista members that will help with volunteering and recruitment for Promise Zone activities, and tax incentives (if enacted by Congress) that will leverage private business and investments. Camden will receive these benefits for the ten-year span allotted under the Promise Zone project.
The partnership formed under the initiative will add further support and accelerate the city's efforts to create a place of prosperity for its residents. During the process, Camden will experience a transformation and resurgence of sorts as the city will become a desirable place to live, work, visit , and invest in; one with quality housing options available for all residents after demolition of vacant properties and development of single-and-multi-family homes, a strengthened economic base that features plenty of job opportunities along with the necessary work readiness training, a vastly improved education system that promotes higher levels of school readiness, improved health advocacy by reducing obesity and hunger through nutrition programming, recreational services, and increase of food access, and advanced safety and overall well-being of residents through the implementation of various programs and the continuation of the effective community-based policing model that has garnered praise from President Obama. Working in accord with the federal government, Camden Promise Zone is committed to producing results, with the shared vision of turning potential into reality.